Marketers and Social Media Managers, your Facebook engagement is about to get a lot smarter. HootSuite is proud to release a huge batch of improvements to our Facebook toolset for all users, including three powerful Enterprise features.
New Features for HootSuite Enterprise Clients:
Enhanced Demographic Targeting: Target Facebook users by Age, Gender, Interested In, Relationship Status and Education.
Geo-Fencing Profiles: Geo-Fence team members, limiting the target audience of their posts by language and location for enhanced control and targeted messaging.
New Analytics Modules (also available to Pro clients): Break down your Facebook success by demographic and region, and see how you stack up against your competition.
To learn more about using HootSuite Enterprise, request a demo.

Additional New Features for all Users:
In-stream Private Messages
Facebook Search in the dashboard
Facebook Stream real-time Likes and comments
Event Streams
Marketers and community managers using Facebook Pages will be able to reach further and look deeper, thanks to advanced demographic targeting and fine-grained analytics features.
Demographic Targeting (Enterprise)
Socially savvy companies know that they can't blast out the same content to a global audience.Enterprise clients can already use the HootSuite dashboard to target their Facebook audiences by language and geography, and today's release adds filters for: age, gender, interest, relationship status, and education.
The possibilities for fine-tuning messaging are endless. For example, these parameters could let a clothing retailer publish two slightly different Facebook posts as part of the same promotion; aiming one at college-educated single women, and the other at married women over thirty. In combination with language and location targeting, these new demographic variables allow the biggest Facebook pages to reach fans on a more personal level.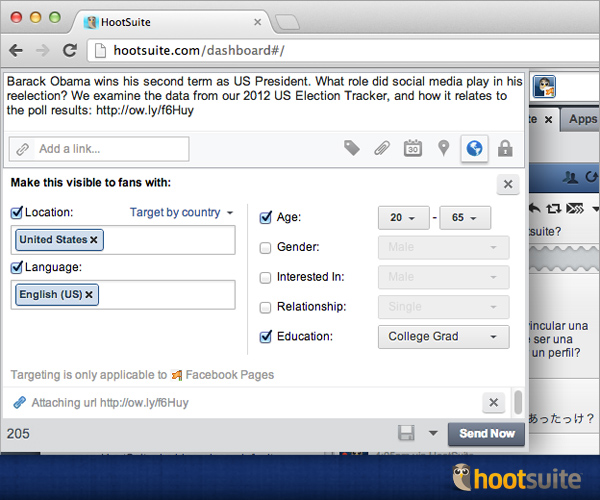 Geo-Fencing (Enterprise)
As enterprises grow their social media presence, their social teams get bigger and more diverse. Organizations with an international presence have social media practitioners who specialize in particular demographics, regions and languages. HootSuite's Geo-Fencing lets Enterprise clients decide which locations and languages will be targeted by each team member on any social profile.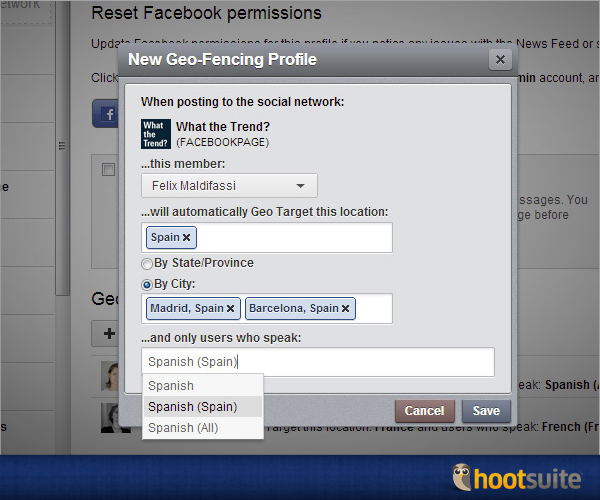 Argentina's Avatar Agency, which controls the South American Facebook accounts of Audi, ESPN, Coca-Cola and a number of other select clients, has had great success with HootSuite's Geo-Fencing feature.
"With over 50 team members and 9 different teams managing around 65 social profiles, we need to be able to control how each of our community managers are posting to our clients' Facebook pages," says Nadia Idiart, Avatar's Community Manager Team Leader. "HootSuite's new Geo-Fencing function meets those needs perfectly, allowing us to coordinate our Facebook posts for specific countries and languages throughout South America."
Analyze your Facebook Audience by Demographic and Region (Enterprise & Pro)
If you're going to target narrow audiences, you need to know how effectively you're reaching them, and whether or not your message is resonating. That's why HootSuite has matched our publishing enhancements with additions to our large selection of analytics modules.
Using HootSuite, you can now see the reach of your Facebook page by demographic or by region. Just as important, you can see how many people in every demographic and region are talking about your brand on Facebook. This granular data, in addition to your integrated click-through reports from ow.ly and Webtrends, will allow you to continuously adjust your Facebook messaging in order to acheive maximum impact with every part of your audience.
Compare Public Pages (Enterprise & Pro)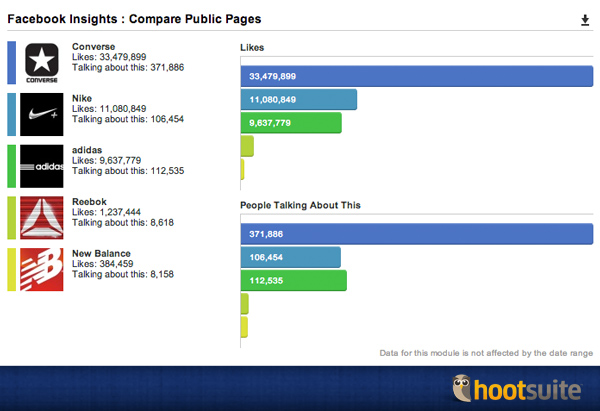 Because nobody can keep up with the Joneses without peeking over their fence every once in awhile, HootSuite has also added an analytics module that lets you compare your Facebook page side-by-side with the public information about your competitors' pages. See how many people are talking about you relative to other brands, and who's winning the battle for Likes.
In-Stream Private Messages (all users)
Respond to private messages sent by fans to Pages to make engagement a seamless exercise. Expand private conversations within the stream to view the full thread. With the ability to read and reply within the stream, social media managers are more efficient using HootSuite than ever.
Facebook Search in the dashboard (all users)
Of course, people don't only talk about brands on official Facebook pages, which is why HootSuite has  Facebook search in-dash. Now, access it instantly from the Quick Search function by using the drop down above your streams.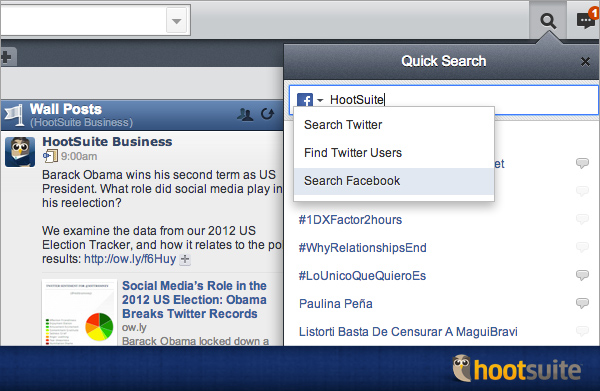 Save the search as a stream alongside your customized keyword streams from Twitter, giving you a broader real-time look at the social media conversation about your brand or any other topic of interest.
Facebook Stream real-time Likes and comments (all users)
By popular demand, the HootSuite dashboard now monitors Likes and comments, in real-time, on all of your posts.
Event Streams (all users)
You guessed it, Facebookers. We've updated our Facebook Event Streams, so you never miss out on your friends' events. 
Nearly 40% of HootSuite's over 3 million daily messages are sent through Facebook, and our team is always working on our dashboard to create a better Facebook experience for casual users and business clients alike. To find out how your business can take advantage of the most advanced Facebook engagement and analytics tools available, visit us at hootsuite.com/enterprise.